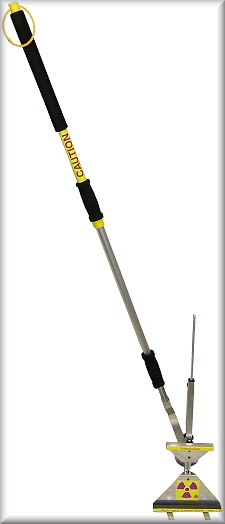 The TOMAHAWK Portable Cassette Positioner is a lightweight piece of equipment that allows for omni-directional cassette positioning at various distances and angles, but also safeguards the technician holding it out of the harmful x-ray beam away from danger.
--UNIQUE, Safe, Convenient and Secure--

The "Tomahawk" cassette holder has three major components: 1. The cassette clamp assembly 2. The vertically adjustable ground supporting post with tighteners 3. The adjustable handle with cassette clamp attachment device

Specifications:
Handle rotates to left or right side of holder
Lightweight, sturdy aluminum 2.5 lbs.
Spring loaded cassette clamp allows easy cassette or contact tunnel changes.
Holds small, medium, and large cassettes, up to 14x17..
1.20" is max plate thickness.
Bubble level on top of cassette clamp.
Two telescoping handles. Long: 32" - 54" and Short: 0" - 20".
Handles double as vertical cassette holder support posts, allowing ground contact for cassette positioned 0" - 54" above ground level. Long handle mounts on left, right, or centered on cassette holder.
Telescoping 20" center leg ground support post/handle.
Positioning handle elbow has discrete cassette tilt angles (360° rotation) allowing for compound views.
Easily fits and stores into any mobile unit.