| | | |
| --- | --- | --- |
| | X-Ray Corporation | |
The Panoramic X-Ray Apron is designed expressly for maximum patient protection during panoramic radiograph exposure. Providing front and back protection, the panoramic apron is a convenient slip-on style, not a cumbersome over-the-head apron. The back panel is split and comes down to the waist. The panoramic is backed with a tear resistant non-slip lining to keep the apron in position without bulky fasteners. Protection is .30mm in Standard Lead (approx 8 lbs), .25mm in No-Lead (approx 6 lbs).

Now available in a Child size!
To see fabric choices, click here: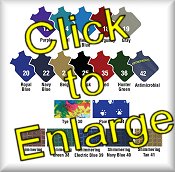 Monogramming available.
Flow will add a pocket at no cost and monogram your text there. This avoids bunching.
Stock #

Description

Your Price

75061

Adult 24"x 27" Standard Lead

$221.00

75061NL

Adult 24"x 27" No-Lead
(Lead-Free Protection)

$416.00

75062

Child 20"x 20" Standard Lead

$164.00

75062NL

Child 20"x 20" No-Lead
(Lead-Free Protection)

$327.00

61000

Monogramming per line; 3 lines max.
Approx. 20 characters.

$26.66