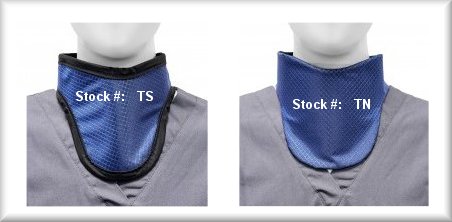 Thyro-Guard
Thyroid Collar (standard)


Contours to chin and closes with Hook & Loop Fasteners.
0.5mm Pb equivalency protection.
6" tall x 6 1/2" wide x 24" strap.
Order in #61/Ripstop Sapphire by 9am West Coast time, collar will ship later that day! Quick Ship not available with 'Snap Ring'. QUICK SHIP available only in REGULAR Lead 'TYR' in #61/Sapphire.

NEW OPTION: Metal Snap Ring tether for easy collar attachment (if ordering apron at same time.) Pocket on aprons with attached collars include a unique 2 in 1 pocket design: store collar in one pocket and use the other pocket for accessories.

Shown here in #83/Cool Waves. Colors/Tones vary with gradient fabrics.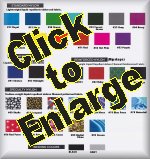 Click to enlarge Techno-Aide fabric options for this product.
Stock #

Lead Type

Attached w/Snap Ring?

Closure

Your Price

QS-TYR-61

Regular
QUICKSHIP
Ships next day

No

Hook-N-Loop


$Call

TYR

Regular

No

Hook-N-Loop


$Call

TYL

Light Weight


No

Hook-N-Loop

$Call

TYG

LMG Lead-Free

No

Hook-N-Loop

$Call

TAR

Regular

YES

Hook-N-Loop

$Call

TAL

Light Weight

YES

Hook-N-Loop

$Call

TAG

LMG Lead-Free

YES

Hook-N-Loop

$Call

TCW

Washable Collar Cover
In Any Fabric

NA

Hook-N-Loop

$Call

B

Replace Hook-N-Loop Closure with BUCKLE

NA

Buckle

$6.00