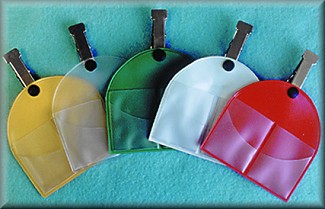 NOTE: This product is being discontinued and is limited to stock on hand. Contact us for current availability if you are interesting in purchasing.
Convenient four-pouch holder for markers.
Handy swivel clip attaches the Marker Keeper to belt, lapel, pocket, etc.
Keeps markers in easy reach for quick retrieval.
Constructed of durable vinyl with a steel clip.
Allows markers to remain thin because Hook & Loop Fasteners are unnecessary.
Available in five colors: Yellow, Clear, Green, Light Blue, and Red.