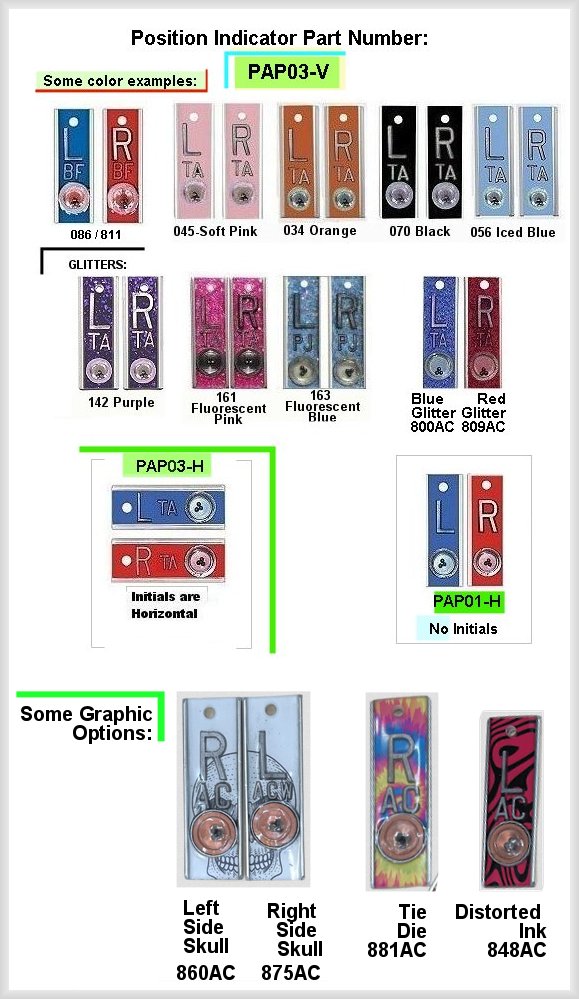 Lots of New Color Options!
Same great pricing.

TA-13


Elite style markers have the most durable aluminum casing. Beads indicate patient position.


R & L - 5/8"
2 Initials - 3/8" or
3 Initials - 1/4"


Can order each in different colors, no upcharge.

Order TA-11 or TA-12 for Polystyrene Casing.



Stock #

Color

Glitter?

Initials?

Your Price

TA-13-PK

Pink Both

NO

Yes

$32.00

TA-13-CO

Orange Both

NO

Yes

$32.00

TA-13-BK

Black Both

NO

Yes

$32.00

TA-13-PW

Periwinkle Blue Both

NO

Yes

$32.00

TA-13-BR

Brown Both

NO

Yes

$32.00

TA-13-GP

Purple
Glitter Both

Yes

Yes

$32.00

TA-13-GS

Sienna
Glitter Both

Yes

Yes

$32.00

TA-13-GO

Orange
Glitter Both

Yes

Yes

$32.00

TA-13-GPK

Pink Glitter Both

Yes

Yes

$32.00

TA-13-GPW

Powder Blue Glitter Both

Yes

Yes

$32.00

TA-13-TR

Tye Dye Blue Red Purple Both

Yes

Yes

$32.00

TA-13

Red Right
Blue Left

NO

Yes

$32.00

TA-13GR

Red Right
Blue Left
Glitter

Yes

Yes

$32.00

TA-14

Red Right
Blue Left

NO

NO

$27.00

TA-137

Red Right
Blue Left

NO

Yes, specify Initials to be
Stacked or Horizontal

$35.00

TA-11

Left Blue, Right Red
Polystyrene Casing

NO

Yes

$34.13

TA-12

Left Blue, Right Red
Polystyrene Casing

NO

No

$27.00