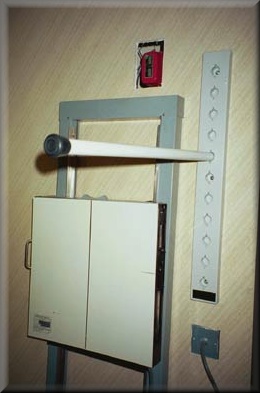 One of a Kind Patented Support System!

No matter whom you treat, from small children to the elderly, and anyone in between, from 50 lbs. to 250 lbs...this is the only adjustable bar to meet virtually every patients needs! You'll also discover that this support bar...


Helps keep the patient's arms above their head, so you'll eliminate costly and time consuming re-takes.
Solid cast aluminum holds the smooth, painted aluminum lateral bar that you can easily move through 11 different positions to safely meet your patient's needs.
Whether standing or sitting, this patented Valsbar Patient Support System increases patient safety while dramatically reducing your risk of lawsuits from them slipping and falling.
Relaxes the patient as they hold onto and grasp the bar for sturdy support to stabilize themselves.
Stores out of the way when not in use and takes up no precious floor space in the x-ray room.

System Weights:
VB36 = 16 lbs.
VB48 = 17 lbs.

Used by Hundreds of Hospitals and Clinics in the United States and Canada

The University of Michigan, Shriners Childrens Hospitals, Veterans Hospitals and Mercy Hospitals are just a few of the hundreds who are relieved to have found such a unique and simple way to wipe out all the costly risks involved with taking x-rays. And the patented Valsbar Patient Support System is 100% guaranteed!