TECHNICAL DATA:

Outside cylinder diameter: 220mm (180mm)
Outside cylinder height: 150mm
Inside cylinder diameter: 204mm (173mm)
Inside cylinder height: 130mm
Filled with 10 mmol nickel chloride solution containing
Sodium chloride 45 mmol
T1 and T2 sample vials:

-6 cylindrical vials Ø19 x 41mm, refillable from outside, by default filled with 20 mmol nickel chloride and 15 mmol sodium chloride solution.

Resolution insert:

-Four matrices of holes, diameters: 0.8, 0.9, 1.0 and 1.1 mm, Spaces between the holes are equal to hole diameters, 2 small containers with water and fat for water-fat shift evaluation.

Slice Thickness Insert:

-180 x 46 x 10mm PMMA plate, 1mm wide and 5mm deep counter-descending slits on both sides, Slits form two ramps descending at 1:10 geometric distortion insert: 10 x 10 array of squares, 148mm on a side, 10mm thick

Low Contrast Insert:

-4 polycarbonate discs 0.05, 0.1, 0.15 and 0.2mm in thickness.
-partial volume contribution of these sheets and filling solution produce contrasts: 1.4, 2.5, 3.6 and 5.1%.
-each disc contains 12 groups of 3 holes arranged in spokes.
-each spoke has the same diameter.
-diameters range from 7.0 to 1.5mm (0.5mm step)

Four sets of paired 45° wedges are located on both sides of the phantom. The lower pairs are 30 x 30mm and the upper ones are 40 x 40mm. The distance between intersection points of the lower and upper pairs is 90mm

Available Optional Accessories: Heavy Duty Carrying Case.


Click to see details:
PRODUCT FEATURES:
Complies with:
–ACR MRI Accreditation Program.
–IPEM Report 80 "Quality Control in MRI", 1998.
–AAPM Rep. 28 "Quality Assurance methods & phantoms for MRI", 1990.
–AAPM Rep. 34 "Acceptance testing of MRI systems", 1992.
–AAPM Rep. 100 "Acceptance & Quality Assurance procedures for MRI facilities", 2010 CE certified the Manual provides detailed guidelines for carrying out each test, results assessment and registration.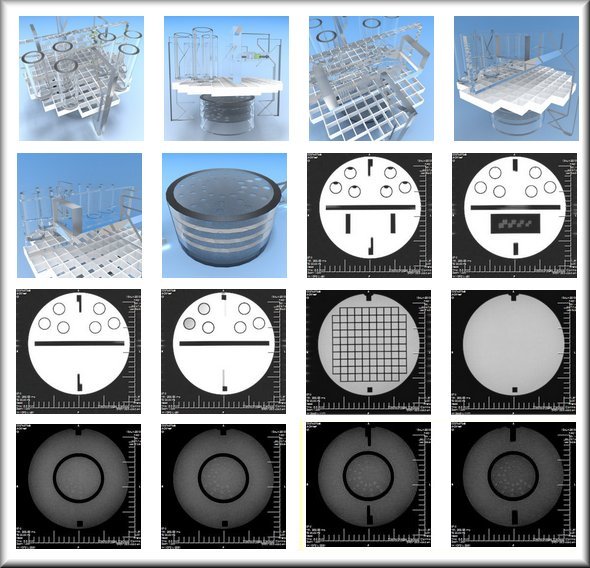 Stock #

Description

Your Price

09-101

Pro-MRI - Versatile Phantom for QC
according to ACR, AAPM and IPEM guidelines
Optional Carrying Case. See 09-102

$2,525.00

09-001

Pro-MRI-KIT, and 12 months Basic Software Subscription.

$2,995.00

06-302

1 Month Basic Software Subscription

$60.00

06-312

12 Months Basic Software Subscription

$600.00

09-103

6 removable vials option, with 6 extra vials (12 in total)

$495.00

09-102

Optional Heavy Duty Carrying Case for 09-101

$250.00