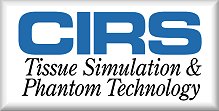 Stereotactic Needle Biopsy Training Phantom

Tissue equivalent, compressible biopsy training phantoms, that won't leak!

The CIRS Stereotactic Needle Biopsy Training Phantom is a disposable training tool and practice medium for mammographic needle biopsy procedures. The phantom also serves as an excellent quality assurance device for stereotactic systems and should be used whenever a new system is installed or repaired to insure accurate needle placement. The phantom can be used to perform the localization accuracy test in the American College of Radiology's stereotactic breast biopsy accreditation program.

The phantom body is shaped to represent a partially compressed breast. This allows the user to easily compress the breast to 4.5 cm thickness for optimum imaging. The shape also enables the phantom to be used in systems where the patient is either prone or sitting. The phantom is made from a proprietary gel with a physical consistency similar to human tissue and, since the gel is a non-flowing material, it won't leak out when punctured. The gel is surrounded by an elastic skin-like membrane, which enables palpation of the embedded masses and provides needle resistance.

Embedded within the phantom are numerous solid masses in a range of sizes. These radiographically visible masses can be biopsied multiple times. The masses are colored black for easy visualization of a successful biopsy. These solid masses are randomly positioned so each phantom provides a unique training experience. Two calcification clusters are positioned within the medial transverse plane at the right and left edge of the phantom. These calcifications can be biopsied or used for QA checks on the mammography system. To aid in visualizing the location of the calcifications, the two groups are each clustered around a white but radiographically transparent mass.

The stereotactic training phantom offers an easy, low cost option to create a relaxed learning environment. The phantom can be reused multiple times with no special storage requirements. The CIRS Model 013 Stereotactic Needle Biopsy Training Phantom provides a simple training solution for mammographic needle biopsy procedures.

Model 013A (Stereotactic Qube Version): The Model 013A, Stereotactic Qube is a non-anthropomorphic, 7cm square block (5cm thick) version of the 013. Otherwise, this version offers all the same features of the standard 013 anthropomorphic version.