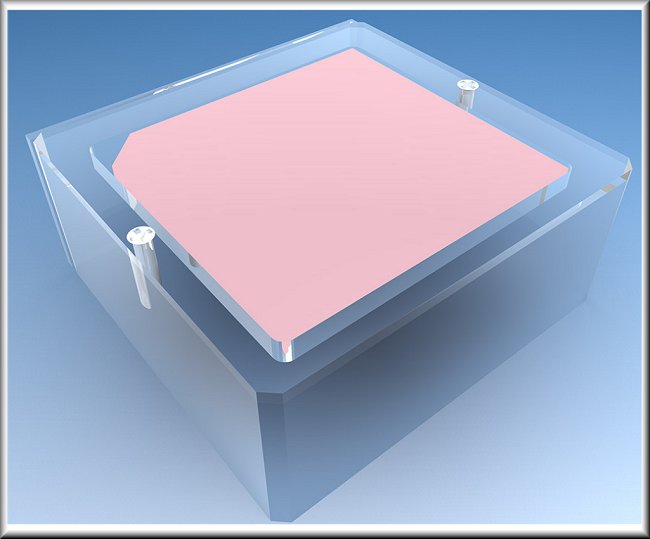 Pro-MAM Accreditation~ACR Compliant
This phantom was designed to meet ACR Mammography Accreditation Program Requirements as well as those of Mammography Quality Standards Act (MQSA) of 1992. Phantom can test the performance of a mammographic system and its ability to image small structures similar to those found clinically: calcifications, fibrous calcifications in ducts and tumor masses.

TECHNICAL DATA:

Dimensions: 102.0mm x 108.0mm x 44.0mm (4.01" x 4.25" x 1.73")
Simulates 42 mm compressed breast of average glandular/adipose composition
Total PMMA thickness: 36.75 mm (1.45")
Wax Insert:


Thickness: 7.25MM
Nylon fibrils diameters: 1.56, 1.12, 0.89, 0.75, 0.54 and 0.40mm
Micro-calcifications: 0.54, 0.40, 0.32, 0.24 and 0.16 mm Al2O3 specks
Tumor-like Masses: 2.00, l.00, 0.75, 0.50 and 0.25 mm thick


4mm thick PMMA contrast disc

Rotating support plate (optional)

Comfortable carrying case (optional)

PRODUCT FEATURES:

Complies with: IEC 61223-3-2
Meets ACR Mammography Accreditation Program Requirements
CE Certified
Manual includes detailed guidelines for carrying out each test, results assessment & registration.




Stock #

Description

Your Price

03-501

Pro-MAM Accreditation – ACR Compliant

$892.50

03-501-CS

Case with Foam for Above

$80.00

03-501-WC

Pro-MAM Accreditation – ACR Compliant
Includes Foam Case

$952.50

03-501-SP

Support Plate for Above

$60.00