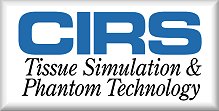 DURABLE TRAINING PHANTOM FOR ULTRASOUND, MAMMOGRAPHY, X-RAY AND MRI

Features


Compatible with X-ray, Ultrasound, and MRI
Heterogeneous tissue to simulate imaging of human breast
Encased in flexible membrane for increased durability
Self-healing material for extended phantom use
Cystic, dense, high stiffness and attenuative masses for biopsy training

The Multi-Modality Breast Biopsy and Sonographic Trainer is designed to train users in various aspects of breast imaging and image-guided interventional procedures. The phantom accurately mimics the heterogeneous appearance of breast tissue under ultrasound, mammography and MRI, and has six cystic lesions and six dense lesions embedded within the breast background. More complex lesions of various shapes, sizes and materials may be added upon request. Examples include spiculated lesions, volumetric targets, or microcalcifications.

The phantom includes a flexible membrane that simulates the look and feel of skin during scanning and biopsy. The skin material closes up on itself after puncture with a needle, providing good protection from dessication even after multiple training sessions.

The material inside the phantom is formulated to minimize the effect of needle tracks while practicing biopsy techniques on the embedded masses. This material also has remarkable self-healing properties, and tracks will usually disappear within minutes (sometime seconds) of needle removal. Each cystic mass may be aspirated once and each dense mass may be biopsied multiple times.