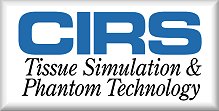 CIRS fetal phantoms provide a realistic high quality imaging model for 2D and 3D ultrasound applications. They are designed for 3D reconstructions, and ultrasound scanning demonstrations.

Phantoms offer a stress-free user environment and are low cost, and durable. Realistic standards make them ideal for developing basic sonography skills.

Both training models include a tissue equivalent full fetal model suspended in a non-echoic, amniotic fluid-like environment. Fetal training phantoms are available in 20 and 36 week versions.

PLEASE NOTE: These training phantoms do not contain internal fetal organs or structures, however, for Model 068 which contains an asymmetric head with upper portion of the skull, right and left brain lobes and lateral and third ventricles, please go here: Fetal Ultrasound Biometrics Phantom Model 068


Materials:

Housing: PVC, ABS, Vinyl.
Phantom: Proprietary gels.



Background Medium:

Attenuation: 0.2dB/cm-MHz
Speed of sound: 1515m/s
Contrast: Anechoic.