TECHNICAL DATA:
-Dimensions: 308mm x 308mm x 12mm. (12" x 12" x 4")
-1mm thick copper plate embedded PMMA.
-7-step copper wedge.
-6 low contrast elements.
-Free area for signal calibration
-Markings to determine size & position of effective radiation field.
-Pattern for line pair resolution evaluation (from 0.6 to 5.0 LP/mm).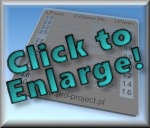 Complies with: – IEC 61223-3-1, – DIN 6868/58 and DIN 6868/13, CE certified. The Manual provides detailed guidelines for carrying out each test, results assessment and registration.
Stock #

Description

Your Price

02-102

PRO Digi

$1,195.00

02-301

PRO-RF Rack
For mounting on Bucky
grid wall stands.

$295.00