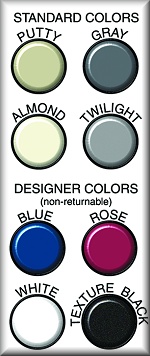 SPECIAL SIZE CABINETS
Same specs as the Standard Cabinets.
STACKABLE (secures with nuts & bolts)
Now accomodates TALLER FILES. Vertical height clearance increased to 15-3/8"
Specify: Base Unit (w/dustplate) OR Stacker (no plate) (Base unit is 3" taller than a Stacker.).
621XST, 631XST, 641XST are sent as Stackers; all others sent as Bases unless specified.
| | | | | |
| --- | --- | --- | --- | --- |
| Stock # | Quantity Purchased | Size | Ship.Wt./ea | Your Price |
| 631XST/1-4 | 1 - 4 | 36" x 18" x 20" | 77 lbs. | $264.00 |
| 631XST/5-9 | 5 - 9 | " " | " " | $256.29 |