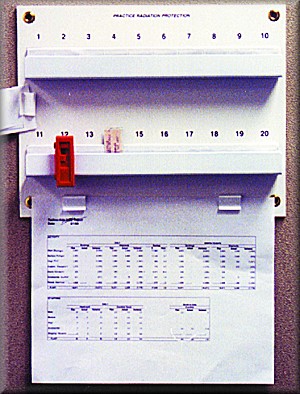 Enhances current tracking methods.
Complements your Quality Assurance program.
Provides a central location for all badge related activity.
Eliminates hours of tracking employees.
Exposure record display area.
Note clip.
Reminds personnel to practice radiation protection.
Places for lapel badges and ring badges on each board.
A Complete System of Accountability
Assign each technologist a number on the board. This will be their badge storage area.
At the end of each reporting period, insert a new film strip in the clear pouch below with the technologist's number.
At the first convenience, the technologist exchanges the film strip and leaves the exposed strip in the clear pouch.
Radiation exposure sheets are posted on the two clips at the bottom of the board and can be initialed by the technologist upon first review.