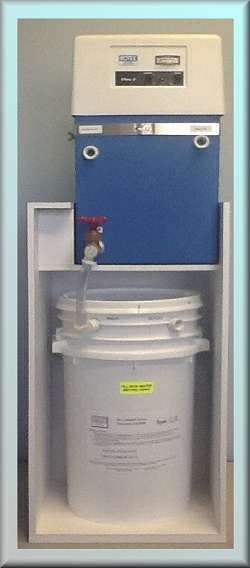 Ultra Combo Models combine the Rotex Ultra Series electrolytic silver recovery unit with the Rotex Silver Compliance Canister along with Stand to fit into a single space saving package.



Compact design.
Maximize silver recovery.
The Stand is Laminate Covered, White, Easy to Clean.
Can be configured as a flow through or batch system.

Combo Stand


Minimizes floor space used by the silver recovery system ­ it only uses 14" x 15" floor space. This white Melamine-covered stand measures 14 x 15 x 24 with a bottom shelf and a upper shelf 18 1/2" above the bottom shelf. The upper shelf holds the silver recovery unit and the lower shelf holds the steel wool "tailings" canister used to comply with minimizing any residual silver reaching the waste water plant in accordance with EPA rules.





Stock #

Ultra Unit

Plating Current

Compliance
Canister (lb)

Dimensions
(inches)

Your Price

UC-404

4

4

4

14" x 15" x 45"

$2,695.00

UC-408

4-5

4

8

14" x 15" x 45"

$2,795.00

UC-412

4-5

4

12

14" x 15" x 45"

$2,895.00

UC-1212

12

12

12

14" x 15" x 45"

$3,255.00
Stock #

Option Description

Your Price

05410935

Purchase Combo Stand Separately
(Shown with product).

$625.00