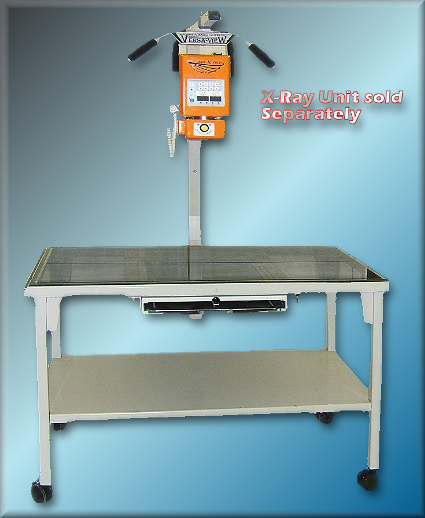 The first integrated mobile veterinary x-ray examination table to provide x-ray capabilities in examination rooms, then wheeled directly into surgery suites, with easy and accurate positioning, less movement of patient, ensuring consistent, quality results.

VersaView™ Mobile X-Ray Examination Table


Handle bars for quick easy positioning
Table size: 56"L x 24"W x 30"H, 250 lb. capacity
"Urine trap table top track design"
Table shelf: 54"L x 23"W holds your accessories
Easily removable portable x-ray unit mounting system
Chrome brushed metal 18 x 18 cassette tray
Cassette cabinet with horizontal travel
Adjustable discrete vertical SID 26" - 36"
Tie-down rails for patient positioning & restraint
Grid ready with 18" x 18" slotted track, unique grid shift. Allows grided split film X-rays in cassette cabinet movement
Travel movements of x-ray beam:

-Horizontal with simultaneous cassette cabinet
-Transverse
-Oblique
-Rotation
-Vertical
-Lateral
-Angulation


Four dual wheels w/locking casters
12 Month warranty


Available in semi transparent polycarbonate (VV-200 - Pictured) or white Formica table top (VV-200W).