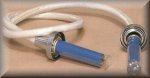 Low capacitance.
3 Pin - Federal Standard Ends.
Cables come standard with straight ends.
An optional 90 end is available upon request. Please specify.
Rated for 75 Kvp per cable. (150 Kvp for two cables)

This pair ships at 44 Lbs., box size: 20" X 20" X 8" in approximately 7 business days at receipt of order.
Non Returnable.

Other sizes available - call for pricing.

Stock #

Length
in
Feet

Your Price

J995-70

70

$2,300.00