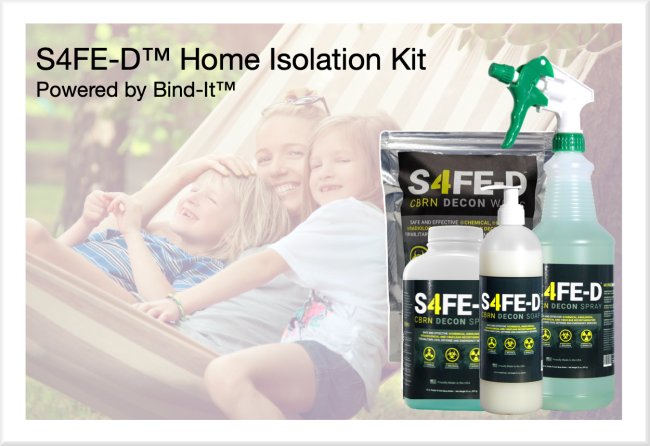 Bind-It™ is a safe, gentle and extremely effective cleaner that binds and traps radioactive iodine allowing it to be removed from most surfaces and skin. Bind-It™ products work by trapping the Radioactive Iodine in solution, then it can be wiped away or rinsed from surfaces that you may have contaminated as the Radioactive Iodine is eliminated from your Body.

Bind-It™ products are gentle enough for routine use and extremely effective at removing radioactive iodine (I131) contamination from almost any surface. Bind-It™ will not stain surfaces. Use Bind-It™ anywhere you suspect radioactive iodine contamination may be present.

Bind-It™has been supplied to laboratories, nuclear pharmacies, hospital nuclear medicine departments for more than 20 years.
There is a real need and desire to protect families from the dangers of second hand exposure to the radioactive iodine from Thyroid treatment patients. Now, your family can get the same level of protection from second hand exposure that hospital workers get with Bind-It™.

Besides being very economical, Bind-It offers three distinct advantages over other decontamination products:

Pleasantly scented, Bind-It spray is formulated with a mild, pleasant scent. No harsh odors, no sulfur smell, no wrinkled noses.

Bind-It WILL NOT cloud lead glass
Finally a way to clean syringe shields and L-blocks - without damaging or clouding the glass.
Bind-It is extremely effective at removing nuclear medicine isotopes, including radio-iodines


Bind-It Spray LTI030
is also safe to use on delicate well detectors, thyroid probes and camera heads. Bind-It Spray is non-corrosive, so it is equally safe on painted, coated or varnished surfaces.
Bind-It works by attracting and binding the isotope, thereby trapping it in solution. This attraction is so powerful, it will even "pull" spilled isotope out of tile grout and other semi-porous surfaces. It is also highly effective as a shield when used to pre-treat surfaces such as bench tops and workplaces where spills are likely. Simply spray the surface and allow to dry. This makes cleanup faster and easier.