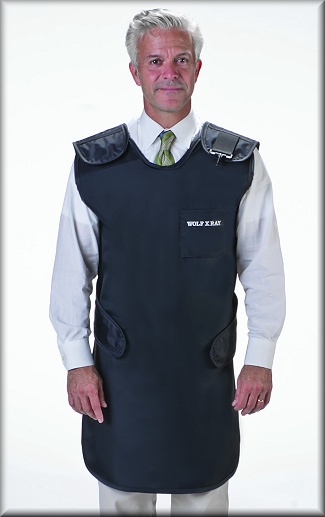 | | |
| --- | --- |
| | X-Ray Corporation |
The Quick Drop Apron is made expressly for maintaining an uncontaminated sterile field. Made to be worn between a scrub-suit and sterile gown, all the surgeon has to do is flip back the two shoulder tabs and the apron falls to the ground. Thyroid Collar is optional. The Quick Drop provides 0.5 mm LE protection and is available in Lightweight Lead or Lead Free.

Do You Need a Thyroid Collar, Eyewear, Carry Bag, Cleaner/Sanitizer Sprays, or Storage Rack to go with this apron?


| | | | | |
| --- | --- | --- | --- | --- |
| Stock # | Description | Protection | Measured Size | Your Price |
| 68094LW | Lightweight | 0.5mm | S 22" x 37" | $437.85 |
| 68098LW | Lightweight | 0.5mm | M 24" x 38" | $441.69 |
| 68099LW | Lightweight | 0.5mm | L 24" x 42" | $464.15 |
| 68100LW | Lightweight | 0.5mm | XL 25" x 40" | $474.77 |
| 68101LW | Lightweight | 0.5mm | XXL 26" x 42" | $495.54 |
| 68094TB | Lead Free | 0.5mm | S 22" x 37" | $521.85 |
| 68098TB | Lead Free | 0.5mm | M 24" x 38" | $528.62 |
| 68099TB | Lead Free | 0.5mm | L 24" x 42" | $554.92 |
| 68100TB | Lead Free | 0.5mm | XL 25" x 40" | $570.31 |
| 68101TB | Lead Free | 0.5mm | XXL 26" x 42" | $593.85 |